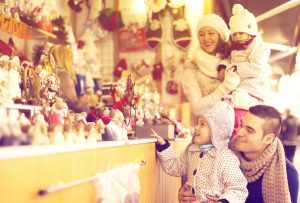 The holiday season is always a busy one in upstate New York! With so many great annual events in the area and the beautiful weather that brings blankets of white snow, it's easy to get into the Christmas spirit. This December, travel to Asa Ransom House for your winter vacation to attend these wonderful Buffalo, NY, Christmas events!
While you're attending these great Buffalo, NY, Christmas events, take advantage of the great attractions in the area. Download our free Vacation Guide to get local recommendations for theaters, museums, historic sites, and restaurants in the area. There's plenty to do and see during your visit to upstate New York and it can be a challenge to figure out which attractions to see and which to skip. Our Vacation Guide can help! Get area suggestions from the people who know it best!
Enjoy These Fantastic Buffalo, NY, Christmas Events
Visit Buffalo Botanical Gardens
While most holiday events are geared towards younger audiences, the Buffalo Botanical Gardens features exhibits for the holiday season that are perfect for all ages. The gardens are beautiful to visit no matter what time of year, but their holiday display is especially stunning. Beautiful poinsettias with stunning Christmas decorations line surround you as you tour their indoor garden. Tickets are just $11 for adults and $10 for seniors, ages 62 and up!
Tour Old Fort Niagara by Candlelight
Old Fort Niagara is a fascinating and educational historic site that dates back to over 300 years ago. The structure you see today is often referred to as "The French Castle," thanks to it having been built by the French is 1726. The British then gained control of the fort in 1759. It was passed between the British and the Americans over the years until it was finally ceded to the United States (for the second time) at the end of the War of 1812.
During The Castle by Candlelight event, the French Castle will be tastefully decorated for the season and lit entirely by candles. You'll be experiencing the fort just as they would have in 1759! There will also be historic figures wandering the grounds if you have any questions about the site. Make sure you stand for the firing of the grand feu de joie! Admission is $10 per person and you can feel good about attending as this event is a fundraiser to benefit educational programming.
Stay at Asa Ransom House
No matter which of these great Buffalo, NY, Christmas events you choose to attend, be sure to return to Asa Ransom House to spend your night. Our selection of exquisitely decorated guest rooms are the perfect complement to a day celebrating the holiday season.
While you're here, make sure you take advantage of our incredible onsite restaurant. Of course, there's the complimentary daily country breakfast served hot each morning. We also serve a delicious dinner from Tuesday to Sunday. From April to December, we also serve a fresh and scrumptious lunch on Wednesdays. No matter when you're visiting, make sure you take at least one of your meals at our restaurant
Check our availability and book today! We look forward to having you.