About Asa Ransom House
A Romantic Western New York Inn
The Asa Ransom House is a Western New York inn and restaurant with deep historical roots and luxurious accommodations.  We invite you to experience the elegance of the 19th century with all the amenities and conveniences today's travelers expect in unique lodging. We go above and beyond to provide a five-star experience to every guest. Take a look at what sets our country inn apart from the rest! Once you're ready, book one of our elegant rooms!
Learn About Our Rich History
In 1799, the Holland Land Company offered lots 10 miles apart, in what is now Clarence, to "any proper man who would build and operate a tavern upon it." Asa Ransom, a young silversmith, had been plying his trade in a little fur trading post on the shores of Lake Erie. He was among the first to accept this opportunity. In the hollow of the ledge, near a pine grove, Asa built a log home and tavern. In 1803, he went on to construct the first grist mill in Erie County!
Our original structure dates back to 1853 and houses the library, gift shop, and snug. We added dining rooms in 1975 while keeping the charm of the 19th century. The South wing, completed in 1993, overlooks the rear gardens and pond. You can still see the ruins of the original grist mill at the back of the property!
Enjoy Our Elegant Rooms and Amenities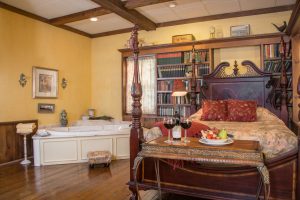 Today, you're welcome to stop by Asa Ransom House and enjoy the finest lodging in the area. Our Clarence, NY, bed and breakfast offers the perfect atmosphere for relaxation and romance. Step inside one of our ten elegantly designed guest rooms for an unparalleled experience. Each room offers a unique flair for a one-of-a-kind feel. In addition, you can find several amenities that set us apart from your typical New York hotels:
Sunshine Square Gift Shop
Our charming gift shop offers fantastic items that are sure to spread sunshine. It's a "village of gifts" in a single room! Browse through flowers, herbal teas, crafts, cards, puzzles, and plush. The list goes on! Our unique gifts are sure to brighten anyone's day — maybe yours!
Historic Library
Our library features a welcoming environment with the comfort of your living room. A large jigsaw puzzle or checkers table awaits you here! We also have a chess board and several periodicals and books to enjoy. You can even listen to old radio programs on cassette!
Herb Garden
Are you wondering where our chefs get the inspiration and ingredients for our delicious meals? The answer is right here on our property! Our collection of over 50 herbs on the west side of our luxurious Western New York inn is one of the highlights of the property. The garden is a beautiful attraction on local garden tours and enlightens our guests about the wonderful world of herbs.  They truly can enhance your quality of life and bring delight to every kitchen and garden.
Explore the Variety of Things to Do in Western New York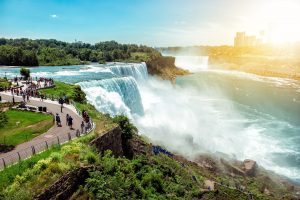 When you visit us in Clarence, NY, you're within reach of endless activities and must-see attractions nearby. We're just 25 miles from Niagara Falls and 12 miles from Buffalo! Or, feel free to stay right here in Clarence and enjoy the charm of our small town!
Here are some of the best things waiting for you here:
Book Your Relaxing Getaway at Asa Ransom House Today!
Don't you deserve a peaceful vacation this season? We sure think so! It's the perfect time to visit us and enjoy everything Asa Ransom House has to offer. From our fascinating history to luxurious lodging and exciting local activities, you're sure to have an unforgettable time. As if you needed another excuse to enjoy a stay here, we offer several specials and packages to enhance your experience!
Check our availability and reserve your luxurious room now! A whole new world of relaxation, romance, and excitement awaits you at Asa Ransom House!