If you're looking for scenic hiking trails, Akron Falls Park is one of the best options in Western New York. Located in Akron, this fairly hidden gem is home to two waterfalls and several recreational facilities. It's just a ten-minute drive from Asa Ransom House! Find out what you need to know about the park so you can explore it for yourself!
Akron Falls Park is one of the many attractions to check out near our inn. Request your free Vacation Guide to the Clarence, NY, area now and discover the variety of options! It's filled with local tips and our recommendations for things to do in the area. Learn about the best local restaurants, historical sites, upcoming events, and more. We are even a short drive from Buffalo and Niagara Falls. Get your guide today and see what's in store for you here!
What You Can Do at Akron Falls Park
View the Waterfalls
As the name implies, there are two waterfalls for you to explore in Akron Falls Park. These are easily accessible from the hiking trails through the forest. A stream runs along the path, pairing the scenery with the babbling sounds of water. Along the way, keep an eye out for white-tailed deer and eastern screech owls!
The one waterfall you should see is the Lower Falls. It features an impressive 40-foot drop for the water to cascade down. While you can also visit the Upper Falls, the trail is more difficult and doesn't offer convenient viewpoints.
If you want to see the water roaring down the cliffs, hike these trails in springtime or just after rainfall. While it's still an excellent place to go in summer, the dry season tends to thin out the stream. For magnificent photo opportunities, check out the Rock Garden!
Explore the Park
After you witness the waterfalls, feel free to enjoy the rest of the park! Akron Falls Park encompasses nearly 300 acres, offering opportunities for basketball, soccer, tennis, picnics, and more. There are also fantastic spots for anglers to reel in some carp and bass. It's open year-round with free admission to the public. Keep in mind that while the park is pet-friendly, you must keep them on leashes at all times.
You're welcome to visit Akron Falls in winter, too. When the weather gets colder, you can still find fun things to do here. Grab your sled and race down the hills, strap on some skis and go cross-country skiing, or lace up some skates for ice skating in Akron Falls Park.
Stay Nearby at Asa Ransom House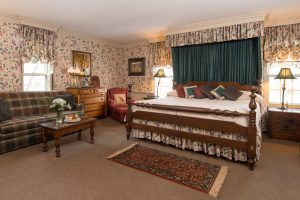 Are you ready to explore this place for yourself? In addition to all the wonderful things to do in Clarence, a hike at Akron Falls Park can make your getaway truly special. Experience it all when you stay with us at Asa Ransom House. Our bed and breakfast was originally built in 1853 and offers the perfect atmosphere for a relaxing or romantic experience. We even have a fine dining restaurant on site for gourmet meals with the freshest ingredients!
Among our list of elegant guest rooms is the Wilson Greatbatch Room. Step inside this spacious environment and enjoy a luxurious king-size bed, cozy fireplace, library corner, private bathroom, and comfortable sofa bed. In the morning, wake up to a full country breakfast. You can even join us for afternoon tea and treats! Your relaxing getaway awaits you at Asa Ransom House. Check our availability and book your stay today! We look forward to having you.
Remember to take a look at our specials and packages! We have a variety of ways for you to save money and enhance your stay with us!