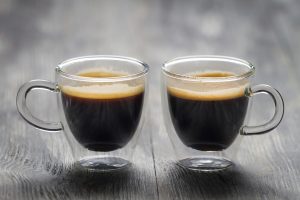 Don't let the name fool you! Clarence Center Coffee is way more than just a place to get a great cup of coffee. The restaurant has been created a great atmosphere for its patrons and serving up delicious food since it opened. It's located just under ten minutes away from Asa Ransom House. Stop in during the open mic nights to get a taste of Clarence's local talent or pop by during happy hour on Friday and Saturday to enjoy $3 beer. Whenever you visit, you're sure to enjoy your time at Clarence Center Coffee!
What You'll Find at Clarence Center Coffee!
The Drinks
Here at Asa Ransom House, we believe that coffee is good anytime of the day. After you're done enjoying a mug of our freshly brewed coffee with your complimentary breakfast, stop by Clarence Center Coffee to try any of their caffeinated concoctions. Don't miss Koso, the house blend medium-bodied coffee that is roasted locally. There are also a variety of flavored coffees available, as well as full-bodied dark roasts that are sure to delight. The staff at Clarence Center Coffee are knowledgeable and always ready to suggest a blend or brew for you.
If you're looking for wine or beer, Clarence Center Coffee can help with that too! They have an extensive wine and beer list that are sure to pair well with their delicious menu of food items. Stop by during happy hour on Friday and Saturday to get a deal on beer!
The Food
If you're looking for some unique flatbreads or sammies, stop by Clarence Center Coffee! The menu of naan flatbread pizza is impressive. Try the Mediterranean grilled eggplant flatbread, which has a base of sundried tomato pesto and feta cheese with grilled eggplant, fresh spinach, artichoke hearts, and kalamata olives on top. Or try the apple and brie crostini if you're in a snacking mood, which is sliced focaccia bread baked with brie cheese and apple slices that have been lightly drizzled with a balsamic glaze. For a delicious sammie, try the avocado hummus sandwich. It features roasted garlic hummus, avocado slices, greens, tomatoes, red onions, and cucumbers, all drizzled with a balsamic reduction.
The Events
For a taste of the local talent, stop by Clarence Center Coffee on Tuesday evenings for the open mic nights. It starts at 7:30 p.m and runs for three hours. Everyone is invited to participate, from beginners to seasoned performers. The open mic isn't just for musicians. Poets will often perform their latest works in front of this captive audience.
Stay at Asa Ransom House
While you're exploring all that our beautiful town has to offer, including Clarence Center Coffee, stay at Asa Ransom House. Our beautiful rooms are warm and inviting, impeccably decorated and incredibly comfortable. Whether you're a family taking a summer vacation or you're a couple looking for a weekend getaway, we are dedicated to giving you the best experience possible. Don't miss our delicious complimentary breakfast! It's the best way to start your day in Clarence.
For more great suggestions of restaurants, request our free Vacation Guide. We have compiled a list of incredible restaurants, just like Clarence Center Coffee.