Garden Walk Buffalo is a popular annual event in New York that features over 400 gardens. Visitors and residents have the opportunity to view these natural displays each year during the last full weekend of July. If you enjoy gardens and creative artwork, then this is the event for you! You will be able to view unique floral designs, water gardens and rock gardens, and beautiful artwork and sculptures. The best part? It's free!

In addition to the Garden Walk Buffalo, there are dozens of exciting events and must-see attractions in our area. Download your free Vacation Guide to Erie County, NY, to find out more! Explore this digital resource for information regarding entertainment, restaurants, festivals, and much more. It only takes a few seconds to download and will save you a ton of time planning your trip!
What You Need to Know for Garden Walk Buffalo
Know the Route
America's largest garden tour takes place in several communities from Canalside to the Scajaquada and from the Niagara River to Main Street. Since the tour is self-guided, you are free to walk at your own pace and view hundreds of private and public gardens. You can start wherever you like and take as much time as you wish. Just remember that the official hours for the event are 10 a.m. to 4 p.m.
How to Get a Map
If you'd like to get an early look at the map for an upcoming Garden Walk, you can make a small donation and the group will mail one to you. Or, simply wait until the event takes place and grab one for free! It is also possible to find maps at various sponsored locations leading up to the event. The Buffalo Garden Walk map includes descriptions of the gardens and their locations along the trail. Garden Walk Headquarters provides these maps and merchandise at Evergreen Health, Buffalo Seminary School, and Richmond-Summer Senior Center. You can also use the restrooms at these facilities during your tour.
Where to Park
There are no designated areas for event parking, so you are welcome to find a space wherever you can. You will likely find plenty of parking along the streets of the tour, though. Don't worry if you forgot comfortable shoes for walking; Garden Walk Buffalo has five free shuttle buses to bring passengers around. Each bus has a guide from Explore Buffalo who will offer more information on the area!
Highlights
The displays on Garden Walk Buffalo include everything from koi ponds to waterfalls, murals, sculptures, and espaliers. You can find all of them listed on your map. Since many residents apply to have their own personal gardens be part of the tour, you are welcome to explore different properties. Just look for the yellow Garden Walk Buffalo sign to make sure it's okay!
Stay at Asa Ransom House for Garden Walk Buffalo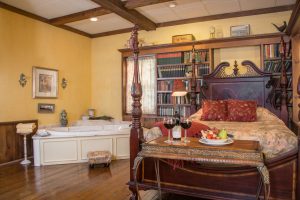 Garden Walk Buffalo has become a signature summer event in Erie County. In order to experience this renowned event, we encourage you to stay at our inn nearby. With ten rooms, a fine dining restaurant, and gardens, you will have no choice but to relax!
Our Country Garden Suite features a queen four-poster bed, whirlpool tub for two, a loveseat by the fireplace, and a library corner. Spend a day admiring flowers at the Buffalo Garden Walk, then return to this cozy suite for the perfect romantic getaway. Check our availability and book your stay now!