If you're looking for a fun way to get some exercise and embrace the beauty of nature, there's no better option than hiking in Western NY. There are numerous trails that will take you by the Niagara River, tranquil creeks and streams, and flowing waterfalls. With so many options available, it can be hard to decide on the right spot for your outdoor adventure. Luckily, we have information on the absolute best trails and parks for hiking!
Whether you're looking for the best hiking in Western NY or your preferences take you elsewhere, the Clarence, NY, area has plenty of options for everyone. Request your free Vacation Guide to discover everything that awaits you here! Build your itinerary with our information on local activities, attractions, events, and more. It only takes a moment to get and is incredibly useful for planning and enjoying your stay!
Where to Go Hiking in Western NY
Letchworth State Park
Letchworth State Park, "The Grand Canyon of the East", is home to some of the most scenic trails in the country. At just an hour away from our bed and breakfast, it is well worth a trip for a day of scenery and natural wonders. There is even a bird conservatory there for you to explore a wide range of beautiful species! There are currently 22 trails available with opportunities for all experience levels. Some of the trails also include stunning views of waterfalls! Letchworth State Park is even a good spot in cold weather, too, with some of the best winter hiking in the Buffalo, NY, area.
Niagara Gorge Trails
The Niagara Gorge Trail System is another one you will want to check out during your stay. These paths spread out along the Niagara River Gorge, offering a remarkable environment for your hike. The New York State Office of Parks, Recreation, and Historic Preservation recommends visiting this area between May and November with a good pair of hiking boots to traverse the more difficult pathways. Some of the tougher trails do offer one-of-a-kind views of the gorge and rapids. If you forgot your hiking boots or would like a more leisurely expedition, we recommend the paved Robert Moses Recreational Trail.
Knox Farm State Park
As if those weren't enough, there are even more fantastic trails available near our inn. Another option is at Knox Farm State Park in East Aurora. This park encompasses a total of over 600 acres and has plenty of wide-open landscapes to see. Here, you can walk along the well-maintained estate or travel through the wooded area to view eco-systems of fascinating wildlife. If you brought your dog along during your stay in one of our pet-friendly rooms, you'll be happy to know that you can bring dogs to Knox Farm State Park, too!
Rest up and Plan Your Next Adventure at Asa Ransom House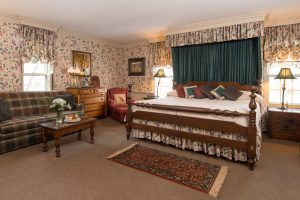 At Asa Ransom House, we welcome adventure-seekers to rest their head in one of our elegant guest rooms. Consider staying in our Wilson Greatbatch room with its spacious design, king-sized bed, and cozy fireplace. In the morning, wake up with a full country breakfast to get ready to take on another day of excitement in Western New York! Check our availability and book your reservation at our charming bed and breakfast in Clarence, NY. We look forward to hosting you!
Be sure to check out what specials and packages we are currently offering for your stay!