Have you ever taken a hike that took your breath away with scenic views of waterfalls, lush forests, and fascinating wildlife? That is exactly what you can expect when you explore the Letchworth State Park trails. Whether you have been here before or are looking to make a first-time visit, we'll tell you everything you need to know about this extraordinary area. Read on to learn more!
Trekking through the Letchworth State Park trails isn't the only great thing you can do around Clarence, NY. Our local area is packed with fun outdoor activities, historical sites, great restaurants, and more. Request your free Vacation Guide now to discover our recommendations for things to do and places to see. Make your next trip truly memorable with our help. Get your guide today!
What You Should Know About the Letchworth State Park Trails
Learn About the Park
Did you know that Letchworth State Park was chosen as the best state park and the best New York attraction by readers of USA Today? Nicknamed "The Grand Canyon of the East", its landscape is characterized by serene forests, huge waterfalls, and a massive gorge formed by the Genesee River. Among the list of waterfalls at Letchworth State Park are the Upper Falls, Middle Falls, and Lower Falls. Be sure to bring a camera and snap some photographs of these natural marvels during your trip! If you're visiting in the winter but still want to go on a fun adventure, you're in luck. The park is open year-round!
Explore the Trails
Letchworth State Park is one of the best places to go hiking in Western New York. Upon arrival, you may choose from over 20 unique hiking trails spanning 66 miles. With so many options, you are sure to have a one-of-a-kind adventure! There are paths available for various experience levels and abilities, so check out the Letchworth State Park trail map and choose one that works for you.
For a shorter walk that everyone can enjoy, we recommend the Dam Overlook Trail. This trail is just under three miles and offers remarkable views. For a longer expedition, feel free to traverse the 7-mile Gorge Trail. Hike along the river with great views of the gorge, cliffs, and waterfalls! There are even opportunities to explore the park by bike, horseback, snowmobile, and hot air balloon.
View Wildlife
Animal lovers will be happy to know that Letchworth State Park is home to a variety of ecosystems and wildlife. Much of the park is certified as a bird conservation area. You may be able to catch a glimpse of the sharp-shinned hawk, cerulean warbler, Eastern meadowlark, and more. For additional opportunities to experience and learn more about wildlife, head over to the Humphrey Nature Center. Browse through their exhibits and sit in on lectures regarding plants and animals of the park. It's a fascinating place with so much to discover!
Rest Up at Asa Ransom House Bed and Breakfast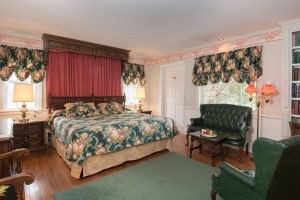 There's no better place to stay than at Asa Ransom House for your adventures at Letchworth State Park. We provide a great environment for you to relax after a long day of hiking and sightseeing. Take your hiking boots off and kick back in one of our luxurious guest rooms. In the morning, wake up to a fresh, gourmet breakfast made from scratch.
Our Millstream room is just one of our excellent options, featuring a dark oak, king-size bed, private balcony, and cozy fireplace. You could experience all of these great things on your next trip to Clarence, NY. Check our availability and book your stay now!