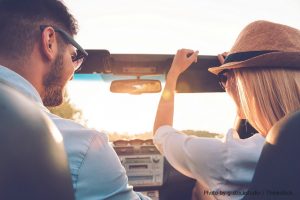 Is there any better place in the world to take a road trip than upstate New York? From the gorgeous wineries to the incredible Niagara Falls to small, hidden-gem towns like Clarence, NY, there is so much to do and see. Whether you're spending the summer traveling or simply looking for a romantic getaway, a Niagara Falls road trip makes for the perfect vacation. Find out what you can do along your trip and the best place to stay during your adventure!
Looking for more great things to do during your Niagara Falls road trip? Download our free Vacation Guide! There's no better resource for local recommendations than a bed and breakfast and we have made sure to compile all of the very best restaurants, historic sites, museums, hiking trails, and shops in one easy guide!
What to do During Your Niagara Falls Road Trip
Tour the Falls!
There are plenty of ways to tour the falls during your Niagara Falls road trip! You can buy a ticket to the famous Maid of the Mist, which has been shepherding visitors since 1846. Grab a bite to eat at the Top of the Falls Restaurant on Goat Island, a small island on the Niagara River. Top of the Falls is aptly named as it overlooks the falls. The menu is composed of modern American cuisine and classic dishes, all served with a stunning view that you can't get anywhere else. You definitely won't find a more unique eatery anywhere else.
Sample Wines at Incredible Niagara Falls Wineries
It may surprise visitors to learn that there are many amazing wineries in Niagara Falls, NY. There are over 20 wineries featured on the Niagara Wine Trail. Of course, you're not expected to visit every single one during your Niagara Falls road trip! Some of the wineries that shouldn't be missed are Long Cliff Vineyard and Winery, Black Willow Winery, A Gust of Sun Winery and Vineyard, Arrowhead Spring Vineyard, and Lake Ontario Winery and Vineyards.
Visit Clarence, NY
From our incredible shops to our cute cafe spots, Clarence, NY, is the perfect place to end your Niagara Falls road trip. After you check in at the beautiful Asa Ransom House Inn and Restaurant, explore the town! Clarence Hollow is a shopping district that houses a number of fantastic antique shops, which are perfect for finding that new addition to your home. There's so much to see among the shelves of Hen House Antiques, 3 Old Dog Antiques, Clarence Antique Mall, or Antique World & Flea Market! If you're in the mood for a pick-me-up, visit Clarence Center Coffee! This cute restaurant features a great selection of coffee, wine, and beer, as well as delicious sammies and flatbreads.
Stay at Asa Ransom House
During your Niagara Falls road trip, stay at the incomparable Asa Ransom House. Our guest rooms are simply stunning, from the warm country decor to the antique furnishings. You'll love the peace and quiet found within our walls, giving you the perfect night of sleep. In the morning, enjoy our delicious country breakfast, complimentary to all of our guests. When you take a seat in our beautiful dining room, you'll be given a choice of entree as well as fresh fruit and assorted pastries. In the evening, treat yourself to a gourmet meal in our incredible restaurant. We are one of the few restaurants in Clarence with farm-to-table cuisine. In fact, we encourage our guests to stroll through our beautiful garden where we grow our herbs. This is much more than just a place to stay the night: Asa Ransom House provides a quiet escape to all of its guests.
So don't wait! Check our availability and book your stay today! We look forward to having you.