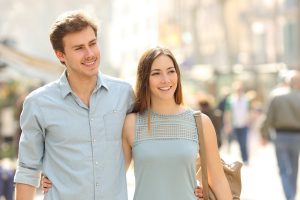 It's always a great time to take a romantic vacation! Whether you're celebrating an anniversary, a honeymoon, or simply want a weekend getaway, we're happy to help you plan the perfect trip. And with our quiet, peaceful location, just 15 minutes away from Buffalo, Asa Ransom House is the perfect place to start. Let us suggest some more great trip ideas with these romantic things to do in Buffalo, NY!
Whether you're looking for romantic things to do in Buffalo, NY or the perfect trip to Niagara Falls, we can help plan your trip! Request your free Vacation Guide to get started. It's full of the best attractions, shops, and restaurants in Clarence, Buffalo, and the Western New York area.
Our Favorite Romantic Things to do in Buffalo, NY
Explore Canalside
From concerts to fitness to ice skating to games, Canalside has it all! Located in the Buffalo's downtown corridor, Canalside is a combination of a waterfront park and arena. This popular Buffalo attraction hosts a ton of great events all year round, ranging from family fun to fitness and everything in between. There is no admission fee to get into Canalside, just tickets to attend specific events. Check out all the things to do to get a full list of what's happening during your visit! We suggest attending one of the fantastic concerts or taking a stroll through the boardwalk area. No need to worry about going hungry! There are a ton of really great restaurants in the area, from quick-service places to more upscale options.
Buffalo and Erie County Botanical Gardens
What's more romantic than flowers? How about over a dozen beautiful indoor and outdoor gardens featuring trees, ponds, succulents, as well as some incredible flowers? Visit the Buffalo and Erie County Botanical Gardens for a day unlike any other. This amazing attraction houses 12 greenhouses, each with a theme, as well as outdoor gardens. Admission is just $11 for adults, and the garden is open Monday through Sunday from 10 a.m. to 5 p.m. There are also great events at the Gardens, including concerts, yoga, special exhibits, and tasting events serving up delicious, fresh food. During Tasting Tuesdays, guests are encouraged to grab a glass of wine or beer and take a self-guided tour of the garden while the sun sets. What could be more romantic than that?
Return to the Beautiful Asa Ransom House
After you've enjoyed these romantic things to do in Buffalo, NY, escape the hustle and bustle of the city for quaint Clarence, NY. Enjoy a quiet, romantic getaway with Asa Ransom House's cozy rooms, incredible restaurant, and our fantastic "Romantic Getaway" package. Book one of our guest rooms and add this package to your reservation to enjoy a four-course dinner and full country breakfast. Millstream is a fantastic choice for a guest room. It comes with a dark oak king-sized bed which faces the usable fireplace, and its own balcony with a view of the south gardens and pond. Book your room today to start planning your romantic vacation!