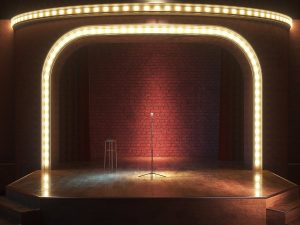 Are you planning a special getaway to Upstate New York? Consider visiting one of the incredible theaters in Buffalo. Asa Ransom House is located just 15 minutes from the city, making it the perfect place to spend an evening before returning to our beautiful bed & breakfast. Head to the Buffalo theater district for a night on the town!
Finding theaters in Buffalo is just the first step to planning perfect weekend getaways for couples in Upstate NY! To plan the rest of your trip, download our free Vacation Guide. We've listed the most romantic restaurants in Buffalo as well as other nearby theaters, like the Lancaster Opera House. With our free Vacation Guide, you'll have your trip planned in no time.
Visit our Favorite Theaters in Buffalo
Alleyway Theatre in Buffalo, NY
Founded in 1980 by Neal Radice, Alleyway Theatre has grown into one of the most popular spots in town. With modern interpretations of classics like A Christmas Carol, original productions from the theater's founder, and kid-friendly shows, there's something for everyone at Alleyway Theatre. Regular admission is just $32 per ticket. Check the website for the full list of productions.
Shea's Performing Arts Center in Buffalo, NY
Shea's Performing Arts Center features new and classic performances in three different locations in Buffalo. With three theaters, there are plenty of great shows from which to choose. There's no better place to enjoy musicals in Buffalo, NY! Take a look at the calendars of events to find the show that interests you the most! There are tours available at the main theater, Shea's Performing Arts Center, which has been designated as a National HIstoric Site. The tours are available Tuesdays, Thursdays, and Saturdays at 10:00 a.m. and 1:00 p.m. on non-show days.
Irish Classical Theatre Company in Buffalo, NY
Watch hilarious comedies and iconic shows by Irish playwrights at the Irish Classical Theatre Company! This company presents at The Andrews Theatre, which is the only theatre-in-the-round in Western New York! The company was started by Vincent and Chris O'Neill, brothers from Dublin who were performing in Buffalo. It was founded in 1999 and has been contributing incredible performances to the community ever since!
Enjoy Dinner Theater in Buffalo, NY
While Lancaster Opera House is not located in the city of Buffalo, it is still part of the Buffalo Theater Alliance. With the Dinner Theater Special from Asa Ransom House, you'll be able to enjoy dinner and a show from Friday to Sunday. The package includes a delicious dinner at Asa Ransom House and tickets to a performance at the Lancaster Opera House.
Stay at Asa Ransom House
After your visit to one of these theaters in Buffalo, return to the charm and comfort of Asa Ransom House. Our historic bed and breakfast is located in Clarence, NY, just 15 minutes away from Buffalo and 28 miles from Niagara Falls. It's the perfect place to stay during your romantic vacation. Enjoy our many amenities and guest rooms, delicious breakfast, and top-notch customer service.
Check our availability and book today! We look forward to having you.