Have you ever wanted to see the natural marvel of Niagara Falls? We encourage you to visit at least once in your lifetime, and why not make the trip this season? Go and explore the area, take stunning photographs from the observation towers, ride on Maid of the Mist, indulge in nearby wineries. Afterward, we suggest returning to one of the towns near Niagara Falls. This allows you to explore even more attractions in peaceful, less-crowded areas.
Among the list of towns near Niagara Falls, consider Clarence, NY. It's home to our lovely inn and restaurant at Asa Ransom House as well as a wide variety of activities. Download your free Vacation Guide now to explore our local area! Find out about the best restaurants, historical sites, outdoor recreation, and upcoming events! It's filled with useful information and local tips so you can get the most out of your stay. Get yours now!
Check out These Towns Near Niagara Falls
Clarence
Would you like to stay in a peaceful town within driving distance of Niagara Falls? If so, Clarence should be at the top of your list. It was established in 1799, making it the oldest town in Erie County and filled with rich history. Its historical sites, aesthetic beauty, and charm have been preserved over the years to offer an experience like no other.
There are so many fantastic things to do in Clarence. If you'd like to get out and explore this scenic community, feel free to take a bike ride along the Clarence Bike Trails. Choose from two paths leading you through historical sites and local parks. Be sure to also head to Main Street and explore the fascinating artifacts at the Clarence Historical Museum.
When you've built up an appetite, you are welcome to grab a seat for dinner at Asa Ransom House. We offer a seasonal menu offering gourmet meals from farm-to-table ingredients, including freshly-picked herbs from our own garden.
Lockport
In Lockport, you can stay in a small town that actually encompasses a city as well. This provides great opportunities for both relaxation and excitement. Here, be sure to check out the many popular wineries. Visit Freedom Run Winery and try their staple Estate Pinot Noir, Niagara Landing for their expert wine-making over three generations, and Spring Lake Winery for exquisite wine in a stunning environment. For sightseeing cruises along the water, reserve a seat for Lockport Locks & Erie Canal Cruises.
Amherst
Another excellent option within driving distance of Niagara Falls is the town of Amherst. One of the must-see attractions here is the Buffalo Niagara Heritage Village. This non-profit organization offers educational exhibits and tours at affordable admission prices. Throughout the 35 acre area, explore historical buildings, churches, schoolhouses, and more. You can also check out the displays at the Community Art Gallery there. If you enjoy performing arts as well, purchase tickets and catch a show at the MusicalFare Theatre nearby!
Stay at Asa Ransom House in Clarence
If you want to get the most out of your visit to Western New York, we encourage you to stay with us at Asa Ransom House bed and breakfast. We are located just 28 miles from Niagara Falls and offer a quiet, romantic environment to return to after your adventures. Choose from our uniquely decorated guest rooms, dine with us in our restaurant, and even join us for some fun at events like our Clarence Summer Concerts!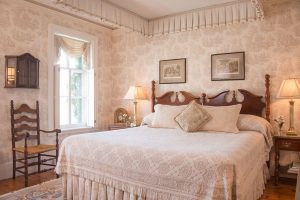 For a luxurious stay you can't experience anywhere else, consider our Joseph Ellicott room. Step inside and enjoy a comfortable king-size bed, wonderful views of the gazebo and gardens, and a spacious bath. In the morning, wake up to a full country breakfast to start your morning off right. Your next getaway awaits. Check our availability and book your stay at our top-notch bed and breakfast.
Don't forget to take advantage of our specials and packages to enhance your stay!