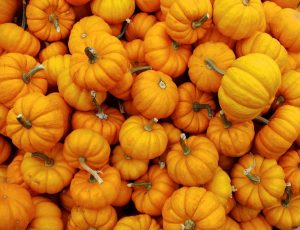 Are you looking for a family friendly attraction that's full of Autumn fun? Visit Wheatfield Pumpkin Farm during your stay at Asa Ransom House this fall! Ride the haunted hayride, explore the corn maze, visit the petting zoo, and pick out your favorite pumpkin. This great attraction is located in Wheatfield, NY, just a 40-minute drive from Asa Ransom House.
Looking for more family friendly attractions, just like Wheatfield Pumpkin Farm? Download our free Vacation Guide! Inside, you'll find our recommendations for fun annual events, great restaurants, and (of course) plenty of wholesome fun! Planning your trip to upstate New York is easy with our Vacation Guide.
Explore Wheatfield Pumpkin Farm
Wheatfield Pumpkin Farm is open from late September through October from 10 a.m. to 7 p.m. On the nights that feature the Haunted Hayride, the hours are extended.
Visit the Petting Zoo
Goats, cows, and horses, oh my! During your visit to Wheatfield Pumpkin Farm, you'll definitely want to stop by the petting zoo. There are plenty of barnyard animals just waiting for your visit! Make sure to take some hand sanitizer or wipes with you, just in case.
Take a Haunted Hayride
The bravest among us will love the Haunted Hayride! Check the schedule before you embark if you plan on taking the hayride as it only runs once or twice a week. The hayrides begin at dusk and run every 15 minutes. Anyone aged 16 or younger must be accompanied by at least one adult to ride the hayride. Tickets for the hayride are $8 for adults and $6 for children 13 or younger. Remember to bring cash with you! Wheatfield Pumpkin Farm does not accept debit or credit cards or checks.
If you'd rather not take the haunted route, Wheatfield Pumpkin Farm also offers daily daytime hayrides. It's a great way to get a tour of the farm!
Family Fun is Waiting For You
As if a hayride and petting zoo weren't enough, Wheatfield also offers a dedicated play area for the little ones and a mini corn maze along with the pumpkin, gourds, and squash fields. Make sure you try some of the delicious apple cider! Wheatfield also hosts birthday parties. It's sure to make for an unforgettable time!
Stay at Asa Ransom House
After you're done exploring Wheatfield Pumpkin Farm, return to the calm, cozy surroundings of Asa Ransom House. Our charming Clarence, NY bed and breakfast is only 15 minutes from Buffalo and 28 miles from Niagara Falls. Aside from our beautiful accommodations, amazing specials and packages, and friendly staff, we feature an in-house restaurant that serves up delicious food. Enjoy the guest breakfast, which features three courses of freshly made treats. You'll be given a choice of entree, such a quiche, apple oat cake, or egg and cheese souffle, as well as fresh fruit and assorted muffins and pastries.
For dinner, return to Asa Ransom House for a delicious meal. The evening meal is offered every Sunday and Tuesday through Friday. Choose from our seasonal menu, which features classic French and American cuisine. From our soup of the day to our homemade desserts, dinner at Asa Ransom House is always a treat.
Check our availability and book your room today! We look forward to having you.