November 16, 2017 by Asa Ransom House Country Inn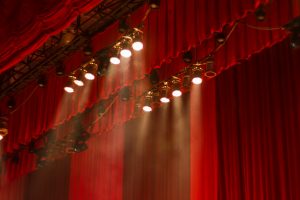 There's nothing like the theater and we are so lucky to have an amazing opera house just 15 minutes from Asa Ransom House! You'll find a little bit of everything at this Lancaster institution. From concerts to dinner theater, from classic musicals to holiday-themed plays, there's so much to see in every season. Find out how you can enjoy a night at the theater combined with a gourmet meal at Asa Ransom House!
Are you looking for more great local attractions, just like Lancaster Opera House? Download our free Vacation Guide! We've listed our favorite museums in Buffalo, historic sites, and art galleries. Get recommendations from a source that knows and loves the area. Download our Vacation Guide today!
Visit the Lancaster Opera House
Each year, the Lancaster Opera House creates a season of incredible shows from just about every genre. From their special concerts to the grand productions, there's something for everyone here. Diary of Anne Frank Feb. 9-11, 16-18. We Gotta Bingo March 2-4,9-11,16-18, The Roar of the Greesepaint April 6-8,13-15, 20-22, Rounding Third May 11-13, Annie June 8-10,15-17,22-24
Enjoy Dinner and a Show
Combine two of the finest things in life at Asa Ransom House: gourmet food and performance art. We have three incredible packages available for guests of Asa Ransom House. Each package includes a dinner at Asa Ransom House's incredible restaurant and a ticket to whichever production is currently running at Lancaster Opera House. Advance purchase is required for each of these specials so be sure to let us know you'd like to include this in your reservation when you book your room at Asa Ransom House!
Read the rest of this page »
May 27, 2016 by asaransom
Buffalo, New York boasts a wide range of music and theater productions and venues: 'Live Music in Buffalo' features live music at Canalside, the Buffalo Philharmonic at Kleinhans, operas at Lancaster Opera House and Broadway productions at Shea's Performing Art's Center. Many of our music venues are also rich in history.

Built in 1926, Shea's Performing Art's Center has grown to be a favorite attraction in Buffalo, NY. Shea's is beautifully designed with architecture from all around the world. It opened just years before the Great Depression and still manages to thrive, ninety years later. This National Historical Site just announced their 2016-2017 season; featuring Finding Neverland which is launching it's National Tour right here in Buffalo! Be whisked away to France with the music of George and Ira Gershwin in An American in Paris. Join Ralphie in his quest to get a Red Ryder bb gun in A Christmas Story: The Musical. Enjoy the humorous musical A Gentleman's Guide to Love and Murder. Relive the classics The Sound of Music and Cabaret. Plus special engagements include Stomp, 42nd Street, Wicked, and The Little Mermaid.
Another local favorite is the Lancaster Opera House. It opened for the first time in 1897. Through the years it has not only served as a stage for productions, dances, and commencements, but also: a food and clothing distributor during the Great Depression, a sewing room for war supplies during World War II, the Civil Defense Headquarters in the 1950s, and town hall. They re-ope
ned for productions 35 years ago. Their 2015-2016 season is well under-way. This April experience three time Tony award winning comedy Lend me a Tenor. Be transported to New York City with Bette and Barry: Ya Gotta Have Friends. Join the mystery behind a murder with Night Watch. In May, Get stuck in the middle of two families feuding during a wedding reception with Lovers and Other Strangers. Enjoy a multi-course dinner with Asa Ransom House before heading over to Lancaster with our special Dinner Theater package.
Every Thursday night in the summer hosts free 'Live Music in Buffalo' at Canalside. Concerts are rain or shine with the headliner beginning between 8pm and 9pm. Located downtown, you will be able to experience the historic canals as you listen to the music. If you have not visited Canalside in recent years, you are sure to be impressed by the many renovations that have taken place. Enjoy the his
toric Concert listings for Summer 2016 will be released in May.
Buffalo is proud to have the Buffalo Philharmonic which performs at the National Historic Landmark, Kleinhans Music Hall. The hall has outstanding acoustics and is beautifully designed. The Buffalo Philharmonic's 2016-2017 season begins this May with Gershwin's Porgy and Bess and A Journey throug
h the Alps in June. View an entire listing of their events on their website.
Asa Ransom House also hosts concerts on our front lawn throughout the months of June and July. These concerts are sponsored by the Clarence Hollow Association. Last summer featured: Shakespeare in the Hollow, Beatles play the Hollow, Kindred plus Irish Dancers, and Salute to Broadway. The 2016 concerts begin July 14 with Chris Maloney -Pop,Sole & Gospel. July 28 – 'Magic of course – a unique brand of music and comedy for all ages. August 4 features Flipside – Voted top Classic & Pop Band in Buffalo.
Whichever style of musical arts you prefer, we encourage you to try a venue in Buffalo, NY. Of course, we would love for you to begin and/or end your evening with us, at Asa Ransom House. We are located 18 miles from Shea's, 9 miles from Lancaster Opera House, and 19 miles from Kleinhans and from Canalside. We would be happy to host you for dinner and overnight in one of our ten beautiful rooms. Call our front desk at 716-759-2315 for details.