Just in time for Valentine's Day, enjoy dinner and a fantastic night of relaxation in the best hotel in the Buffalo region! Asa Ransom House features gorgeous guest rooms, a romantic atmosphere, an incredible onsite restaurant, and stunning grounds to explore. Enjoy the best dinner and hotel packages in Buffalo, NY, at Asa Ransom House!
Are you looking for more great things to during your romantic stay? Download our free Vacation Guide! We've listed our favorite museums, historic sites, and shops in Upstate New York. No matter your interests, there's something for you to do and see in the Buffalo area. Make the most of our your stay with our Vacation Guide!
Enjoy the Best Dinner and Hotel Packages in the Buffalo, NY Area
Stay at Asa Ransom House
When it comes to your Western New York vacation, a stay at Asa Ransom House combines the best of both worlds! You'll be just 15 minutes away from Buffalo, with all of its wonderful theaters, museums, and other romantic things to do! Or you can go on the ultimate Niagara Falls road trip, just a 45-minute drive from our country inn. With just a short drive, you can experience the most popular and romantic attractions in Upstate and Western New York.
In the evening, return to the peace and serenity of Asa Ransom House. After exploring these densely populated areas, you'll love spending a quiet night in one of our gorgeous guest rooms. Each of the cozy accommodations within our historic bed and breakfast are furnished with antiques and period reproductions. Choose from each of these uniquely decorated lodgings to find the one that is perfect for you and your loved one!
Indulge in a Dinner Package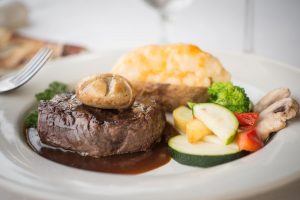 A stay at Asa Ransom House isn't complete without a delicious meal at our on-site restaurant! We offer two fantastic dining specials, each of which is perfect for an intimate evening with your loved one.
Our first dining package is our "Dinner for Two" special. You and a guest are invited to our special promotion, available Tuesday through Friday and Sunday. Enjoy a three-course dinner at Asa Ransom House. This meal includes our "soup of the day," a delicious salad, and the choice of one of our scrumptious entrees. From hearty chicken pot pie to expertly prepared German Sauerbraten Roast, we have plenty of fantastic options. Enhance the romance by requesting a window or fireside table.
Our second dining package is our Dinner Theater special. Available on Friday, Saturday, and Sunday nights, this package includes dinner at Asa Ransom House and a ticket to a performance at the Lancaster Opera House. With this unique package, you'll have your special date night planned in no time.
Stay at Asa Ransom House
No matter how you choose to spend your vacation, be sure to choose from the best dinner and hotel packages near Buffalo, NY! Our country bed and breakfast combines the charm of a historic inn with the fine dining of an upscale hotel. Enjoy our complimentary three-course country breakfast, served hot every morning. There's no better way to start (and end) your day than at Asa Ransom House!
Check our availability and book today! We look forward to having you.