Afternoon Tea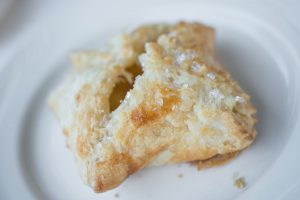 We serve Afternoon Tea by reservation on Wednesday, Thursday, & Saturday from 12:00 to 4:00 p.m. OR available for private parties other days by special reservation.  Come experience the finest Afternoon Tea in Western New York.
Tea is one of the most popular beverages in the world, second only to water. More health-conscious Americans are turning to tea, rich in polyphenols, natural plant compounds with potent antibacterial and antiviral properties. If you're looking for a high tea house near Buffalo and Niagara Falls, we'd be happy to provide you world class Afternoon Tea in Western New York.
Afternoon Tea is held in the Ransom Room, to the right of the main entryway. The dining area is adorned with floral wallpaper, a hearth with fireplace, and beautifully set tables. To begin, you are presented with a choice of Harney & Sons teas, along with a pot of hot water.  Shortly after you've enjoyed your first sips of high tea, a tiered tray of scones, sandwiches and cakes arrives at your table. Savory sandwiches may include cucumber, chicken salad and tuna. Cheesecake, chocolate cake, cookies and fruit complete the experience which usually lasts between 1 or 2 hours.
After high tea, enjoy the inns other public spaces, including a cozy sitting area by the fire, and a delightful gift shop.
Choose Your Package for a Fine Afternoon Tea in Western New York
Traditional Afternoon Tea – $24.95 per person
Choice of selected Tea, Iced Tea, Coffee or Gourmet Hot Cocoa
A selection of finger sandwiches with fruit garnish
Fruit Scones served with Jam and Devonshire Cream
Elegant Cakes and Pastries

Tea Royal – $29.95 per person
A flute of Kir Royal (champagne with Chambord)
A flute of Chateau Frank Champagne, in addition to the Traditional Afternoon Tea
Private Tea Parties  – From 28.95 per person
View Menu