Dining
The dining room with its picturesque windows and fireplace is open to inn guests as well as the public for dinner on Sunday 4-8pm, Tuesday – Friday from 5pm to 8pm and Saturday dinner seating times are between 5pm and 7:30pm.
On Wednesday (April-December) lunch is served from 11am to 2:30 pm. To ensure your preferred dining time, reservations are recommended in advance. Shorts are inappropriate in the dining room, but they are permissible on the veranda or in the snug. Menu selections are the same in all dining areas.
Dinner at Our Clarence Restaurant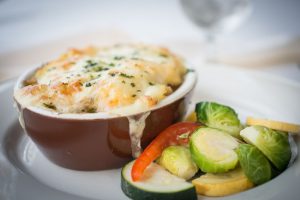 Our seasonal dinner menu is offered Sunday, Tuesday – Friday. On Saturday we offer a five-course dinner, included with Modified American Plan (MAP) rate for overnight guests, or $40-$57 per person for the public. The five-course elegant dinner on Saturday includes: hors d'oeuvres, choice of appetizer, salad, choice from six entrees and homemade dessert & coffee.
Using Our Own Ingredients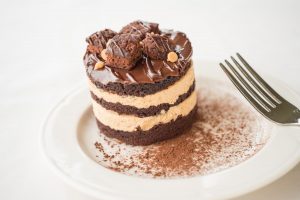 Asa Ransom House is one of the few Clarence restaurants with farm to table cuisine. While many restaurants have begun to promote farm to table cuisine, at Asa Ransom House it's much more than that. Owner/Innkeeper Robert Lenz planted the organic herb garden 40 years ago, and those herbs have become part of their award-winning cuisine at this elegant Clarence, New York restaurant ever since. The garden is a masterpiece in itself and is a highlight on the annual Garden Walk. During the growing season, the 1,250-foot garden is transformed with seventy herbs including sage, basil, marjoram, chives, oregano, thyme and parsley, lavender, anise and more. Tomatoes, strawberries, grapevines and currant bushes grow nearby. Guests are welcome to stroll the grounds and to take in the beautiful surroundings at Asa Ransom House, one of the best restaurants near Buffalo, New York.
View Our Dining Menus
Seasonal Dinner Menu – The seasonal dinner menu is served Sunday and Tuesday – Friday.
Wednesday Lunch Menu – Lunch is available every Wednesday in April – December from 11:30 – 2:30.
Sample Saturday Menu – Saturday evenings a five-course dinner with a choice of entrees is served. (Note: This is a sample menu)
Gluten-Free Menu – Gluten-free options are available upon request.